Fire Detection/Fire Suppression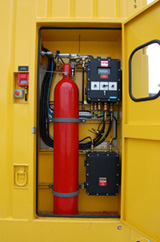 To complement our range of Offshore Generators, we provide fire and gas detection and fire suppression systems. The package can be stand-alone type or installed within generator containers/enclosures.
The range of systems suit all containerised and canopy style offshore generator sets.
FIRE/GAS DETECTION
The combinations of Heat/Smoke/Gas/Flame are variable depending on the available system and are interfaced with a local control panel.
The system monitors the status within the generator sets and will automatically shutdown the generator on detection of fire/gas. On receipt of "confirmed fire" the system will initiate a release of the fire-suppression system.
Audible/visual alarms and status are provided locally at the control panel with, client remote status available via volt-free contacts.
FIRE-SUPPRESSION
The fire suppression system (CO2) provided will disperse on receipt of "confirmed-fire" status. The stand-alone packages have 100% redundancy on fire suppression.